Photo
Gallery
Waiting Room

While our waiting room is both charming and cozy, we always hope that you will spend as little time as possible waiting there. We know your time is very valuable to you, and that's why we try hard to match your appointment time with the actual time that your particular treatment will begin. Of course there could be delays as unforeseen circumstances can arise, but most of our patients will testify about us being very punctual.

Operatories

Yes, our operatories are well equipped and clean, with an inviting and comfortable ambiance. You will most likely listen to either a Christian radio station or to some other soothing music. We utilize ADEC equipment, which is one of the leaders and best-known names in the dental industry. Among other technologies, we use electronic shade-matching equipment to choose the right color for your restorations and intraoral cameras. You will find our operatories (and the entire office) neat and well organized.
We also use the DEXIS DIGITAL X-RAY SYSTEM which uses the least amount of radiation and gives some of the best pictures possible.

Cleanliness

You can rest assured that your chair has been thoroughly disinfected after the previous patient, all disposables have been changed, and protective foil has been applied on all surfaces that will potentially be touched during treatment. If you are visiting another dental office right now, we invite you to observe if they have the same level of infection control. Unfortunately, many offices don't. And of course, every instrument that will touch you is completely sterilized by autoclaving and unpacked with gloved hands only after you are being seated.

Kids Play/TV Room

For those of you who have little ones, they can play or watch a good movie in the Kid's Play/TV Room while you are being treated. It's a safe and clean room, nicely decorated, with something for kids of all ages. It is very handy especially if you decide to bring more than one child for treatment.

Privacy and Confidentiality

We understand how much you value the privacy of your data as well as that of your treatment needs and progress. That is why each operatory is fully enclosed from view, and sound barriers are in place. The same principles apply to the front office, with separate inbound and outbound counters.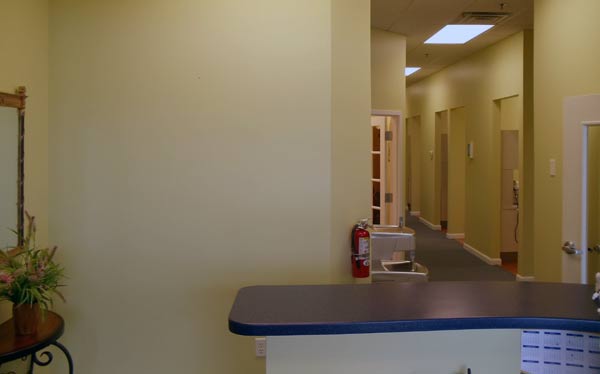 Intraoral Camera
An excellent tool to better see and understand the condition of your teeth is the intraoral camera. On a large screen, Dr. Mitrofan can display your own teeth magnified many times over, and will help you identify specific problems so you will be better informed to choose an optimized treatment plan. The use of the intraoral camera is a great way to identify small cavities, faulty fillings, and cracked teeth.